Sunday, November 10th, 8th Sunday of Luke

Epistle: Galatians 2:16-20; Gospel: Luke 10:25-37

Next Sunday, November 17th, 9th Sunday of Luke

Epistle: Galatians 6:11-18; Gospel: Luke 12:16-21
Epistle Reading
The reading is from St. Paul's Letter to the Galatians 2:16-20
Brethren, knowing that a man is not justified by works of the law but through faith in Jesus Christ, even we have believed in Christ Jesus, in order to be justified by faith in Christ, and not by works of the law, because by works of the law shall no one be justified. But if, in our endeavor to be justified in Christ, we ourselves were found to be sinners, is Christ then an agent of sin? Certainly not! But if I build up again those things which I tore down, then I prove myself a transgressor. For I through the law died to the law, that I might live to God. I have been crucified with Christ; it is no longer I who live, but Christ who lives in me; and the life I now live in the flesh I live by faith in the Son of God, who loved me and gave himself for me.
Ἀδελφοί, εἰδότες ὅτι οὐ δικαιοῦται ἄνθρωπος ἐξ ἔργων νόμου, ἐὰν μὴ διὰ πίστεως Ἰησοῦ Χριστοῦ, καὶ ἡμεῖς εἰς Χριστὸν Ἰησοῦν ἐπιστεύσαμεν, ἵνα δικαιωθῶμεν ἐκ πίστεως Χριστοῦ, καὶ οὐκ ἐξ ἔργων νόμου· διότι οὐ δικαιωθήσεται ἐξ ἔργων νόμου πᾶσα σάρξ. Εἰ δέ, ζητοῦντες δικαιωθῆναι ἐν Χριστῷ, εὑρέθημεν καὶ αὐτοὶ ἁμαρτωλοί, ἆρα Χριστὸς ἁμαρτίας διάκονος; Μὴ γένοιτο. Εἰ γὰρ ἃ κατέλυσα, ταῦτα πάλιν οἰκοδομῶ, παραβάτην ἐμαυτὸν συνίστημι. Ἐγὼ γὰρ διὰ νόμου νόμῳ ἀπέθανον, ἵνα θεῷ ζήσω. Χριστῷ συνεσταύρωμαι· ζῶ δέ, οὐκέτι ἐγώ, ζῇ δὲ ἐν ἐμοὶ Χριστός· ὃ δὲ νῦν ζῶ ἐν σαρκί, ἐν πίστει ζῶ τῇ τοῦ υἱοῦ τοῦ θεοῦ, τοῦ ἀγαπήσαντός με καὶ παραδόντος ἑαυτὸν ὑπὲρ ἐμοῦ.
Gospel Reading
The Gospel According to Luke 10:25-37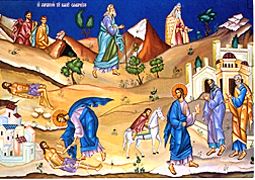 At that time, a lawyer stood up to put Jesus to the test, saying, "Teacher, what shall I do to inherit eternal life?" He said to him, "What is written in the law? How do you read?" And he answered, "You shall love the Lord your God with all your heart, and with all your soul, and with all your strength, and with all your mind; and your neighbor as yourself." And he said to him, "You have answered right; do this, and you will live."
But he, desiring to justify himself, said to Jesus, "And who is my neighbor?" Jesus replied, "A man was going down from Jerusalem to Jericho, and he fell among robbers, who stripped him and beat him, and departed, leaving him half dead. Now by chance a priest was going down that road; and when he saw him he passed by on the other side. So likewise a Levite, when he came to the place and saw him, passed by on the other side. But a Samaritan, as he journeyed, came to where he was; and when he saw him, he had compassion, and went to him and bound up his wounds, pouring on oil and wine; then he set him on his own beast and brought him to an inn, and took care of him. And the next day he took out two denarii and gave them to the innkeeper, saying, 'Take care of him; and whatever more you spend, I will repay you when I come back.' Which of these three, do you think, proved neighbor to the man who fell among the robbers?" He said, "The one who showed mercy on him." And Jesus said to him, "Go and do likewise."
Τῷ καιρῷ ἐκείνῳ, νομικός τις ἀνέστη ἐκπειράζων αὐτὸν καὶ λέγων· διδάσκαλε, τί ποιήσας ζωὴν αἰώνιον κληρονομήσω; ὁ δὲ εἶπε πρὸς αὐτόν· ἐν τῷ νόμῳ τί γέγραπται; πῶς ἀναγινώσκεις; ὁ δὲ ἀποκριθεὶς εἶπεν· ἀγαπήσεις Κύριον τὸν Θεόν σου ἐξ ὅλης τῆς καρδίας σου καὶ ἐξ ὅλης τῆς ψυχῆς σου καὶ ἐξ ὅλης τῆς ἰσχύος σου καὶ ἐξ ὅλης τῆς διανοίας σου, καὶ τὸν πλησίον σου ὡς σεαυτόν· εἶπε δὲ αὐτῷ· ὀρθῶς ἀπεκρίθης· τοῦτο ποίει καὶ ζήσῃ. ὁ δὲ θέλων δικαιοῦν ἑαυτὸν εἶπε πρὸς τὸν ᾿Ιησοῦν· καὶ τίς ἐστί μου πλησίον; ὑπολαβὼν δὲ ὁ ᾿Ιησοῦς εἶπεν· ἄνθρωπός τις κατέβαινεν ἀπὸ ῾Ιερουσαλὴμ εἰς ῾Ιεριχώ, καὶ λῃσταῖς περιέπεσεν· οἳ καὶ ἐκδύσαντες αὐτὸν καὶ πληγὰς ἐπιθέντες ἀπῆλθον ἀφέντες ἡμιθανῆ τυγχάνοντα. κατὰ συγκυρίαν δὲ ἱερεύς τις κατέβαινεν ἐν τῇ ὁδῷ ἐκείνῃ, καὶ ἰδὼν αὐτὸν ἀντιπαρῆλθεν. ὁμοίως δὲ καὶ Λευΐτης γενόμενος κατὰ τὸν τόπον, ἐλθὼν καὶ ἰδὼν ἀντιπαρῆλθε. Σαμαρείτης δέ τις ὁδεύων ἦλθε κατ᾿ αὐτόν, καὶ ἰδὼν αὐτὸν ἐσπλαγχνίσθη, καὶ προσελθὼν κατέδησε τὰ τραύματα αὐτοῦ ἐπιχέων ἔλαιον καὶ οἶνον, ἐπιβιβάσας δὲ αὐτὸν ἐπὶ τὸ ἴδιον κτῆνος ἤγαγεν αὐτὸν εἰς πανδοχεῖον καὶ ἐπεμελήθη αὐτοῦ· καὶ ἐπὶ τὴν αὔριον ἐξελθών, ἐκβαλὼν δύο δηνάρια ἔδωκε τῷ πανδοχεῖ καὶ εἶπεν αὐτῷ· ἐπιμελήθητι αὐτοῦ, καὶ ὅ τι ἂν προσδαπανήσῃς, ἐγὼ ἐν τῷ ἐπανέρχεσθαί με ἀποδώσω σοι. τίς οὖν τούτων τῶν τριῶν πλησίον δοκεῖ σοι γεγονέναι τοῦ ἐμπεσόντος εἰς τοὺς λῃστάς; ὁ δὲ εἶπεν· ὁ ποιήσας τὸ ἔλεος μετ᾿ αὐτοῦ. εἶπεν οὖν αὐτῷ ὁ ᾿Ιησοῦς· πορεύου καὶ σὺ ποίει ὁμοίως.
ANNOUNCEMENTS
ARE YOU UP TO DATE WITH YOUR MEMBERSHIP 2019 TO THE CHURCH?
The Church needs your support. Please send your membership. Be an active member of the holy Church of Christ. Be a good Steward of the Church. The year 2019 is almost over. Help us meet the needs of the church.
Pledge Cards are available at the Church Vestibule. You may also call the church office if you need one and it will be mailed to you or visit our web site www.prophetelias.org and CLICK donate.